I'm the co-author of the Wall Street Journal Bestseller Humanocracy, published in August 2020. The book's premise: top-down power structures and rule-chocked management systems--the defining features of virtually every large-scale organization on the planet--have fast become a liability. They crush creativity and stifle initiative. As leaders, employees, investors and citizens, we deserve better. We need organizations that are bold, entrepreneurial and as nimble as change itself.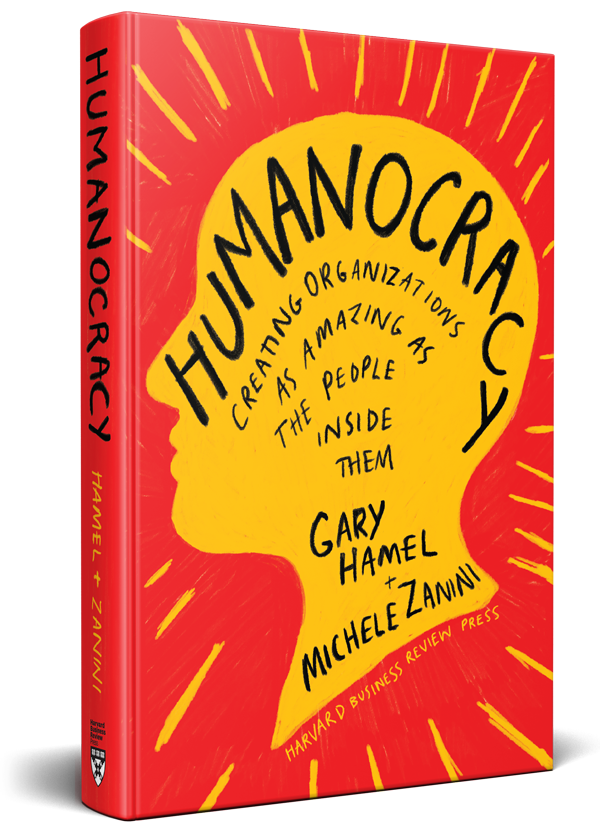 ---
Humanocracy is the fruit of a decade's worth of research and practical experience at the Management Lab (MLab), a research and consulting collaborative Prof. Gary Hamel and I founded in 2010.  We built the MLab to pursue our dream of organizations that:
Consistently amaze their customers;
Unleash the genius of every employee;
Change as fast as the world around them;
Are alive with the spirit of entrepreneurship;
Transcend seemingly intractable tradeoffs, such as efficiency vs.  innovation.
I believe that the only way to develop these capabilities is by radically reinventing how companies are led, managed and organized.  We must try imagine organizations that are as radically different from the bureaucratic template as FaceTime is from a landline phone call, or Alipay is from a wad of banknotes.  Practically speaking, this means creating work environments where:
The mission is boss
Leadership=followership
There are few if any layers
Everyone helps drive change
Decentralization is the default setting
There is no place for mediocrity to hide
Competence is more important than rank
Coordination is achieved through collaboration
There is zero tolerance for bureaucratic maneuvering
Resources flow unimpeded to promising opportunities
My passion is to help progressive companies developing tomorrow's best practices, today.  For more on the MLab approach to build new orgainzational capabilities, go here.
---
In 2022, Gary and I launched  The New Human Movement, a video series  in partnership with Fast Company which features over 50 of the world's boldest thinkers and radical doers who are reimagining work, management and capitalism for a new age. Through conversations with CEOs, entrepreneurs, philosophers and management gurus, we aim to challenge the status quo, redefine what's possible, and build an organization that's fit for the future and fit for human beings.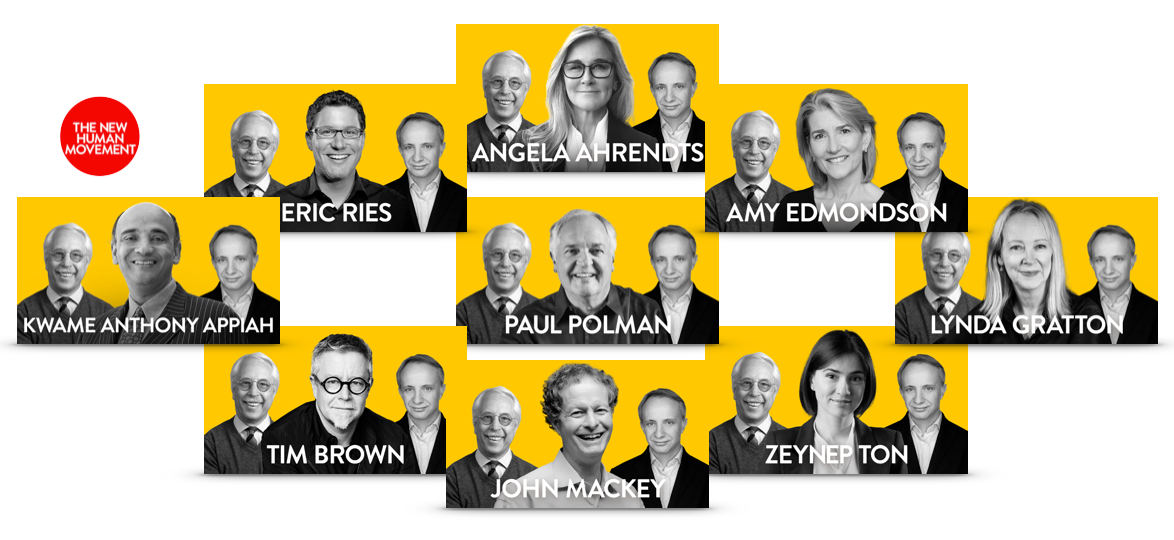 ---
I have a deep interest in unearthing new insights on how we manage, lead, and organize, and distilling their practical implications.  I often write about these on the pages of the Harvard Business Review, the Financial Times, the McKinsey Quarterly. Fast Company, and Fortune.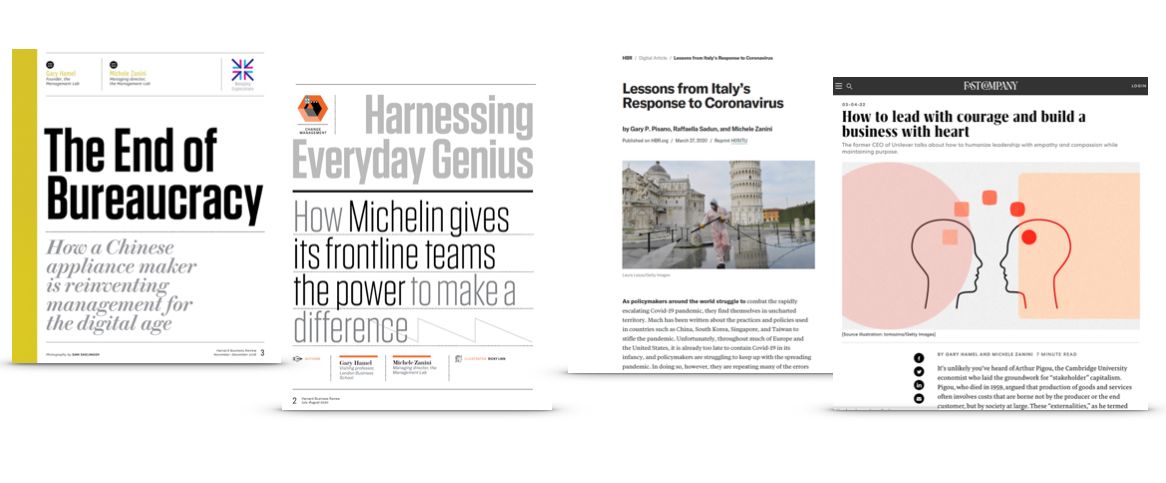 ---
I also speak at public conferences (such as the Global Peter Drucker Forum), executive meetings, and other events.  Together with Gary and other MLab colleagues, I've also hosted several large gatherings of the management vanguard--bringing together CEOs and change agents from some of the world's most progressive, and human-centric organizations  such as Buurtzorg, Intuit, Haier, Michelin, Nucor, Southwest Airlines, WL Gore, and Zappos.
---
I was previously a senior consultant at McKinsey & Company and a leader in the Firm's organization, strategy and financial services practices.  While at McKinsey, I worked on several large-scale transformation initiatives, often helping clients in making deep shifts to their corporate strategy and organizational models.  I also led several research projects on emerging 21st-century management practices, such as dynamic resouce allocation, internal market places, horizontal networks, and new performance metrics that reflect the contirbution of intangible assests such as knowledge.
I began my career at the RAND Corporation, a public policy think tank.  My focus was on international policy, including NATO strategy in the Middle East and Eastern Europe.  My most memorable RAND project was the first, back in 1996, exploring how terrorist and other insurgent groups were harnessing information-age technologies to operate as nimble networks.
---
I left Europe for the US back in 1994 to attend Harvard University's John F. Kennedy School of Government, where I graduated with a Masters in Public Policy in 1996.  I then moved to Santa Monica, CA and earned a PhD in Policy Analysis from the Pardee RAND Graduate School.  
I currently live in the Boston area with my wife and three daughters.