If the last couple of years have taught us anything, it's that companies are increasingly facing an array of daunting challenges that lie outside the performance envelope of management as usual. Thriving in the age of upheaval requires new sources of competitive advantage:  
An Adaptability advantage–an organization that changes as fast as the world around it;
An Innovation advantage –an organization that's alive with the spirit of entrepreneurship;
A Human advantage–an organization that maximizes the contribution of all its members;
A Social advantage–an organization that enhances the lives of all its stakeholders.
I'm passionate about building organizations that are fit for the future & fit for human beings
Developing these capabilities requires a wholesale reinvention in how companies are led, managed and organized. In recent decades, we've seen mind-flipping innovation in operating models and business models.  We need to be equally radical in reimagining the industrial-era management model.
Building organizations that are endlessly malleable, ridiculously creative, brimming with passion, and highly responsive to the needs of all stakeholders requires entirely new approaches to mobilizing and coordinating human effort:
| FROM: Management 1.0 | TO: Management 2.0 |
| --- | --- |
| Power is vested in positions | Influence is earned from one's peers |
| Strategy is set at the top | Strategy is an open, firm-wide conversation |
| Resources are allocated by fiat | Resources are allocated via market mechanisms |
| Innovation is a specialized activity | Innovation is everyone's job |
| Mandates and policy force coordination | Coordination is the product of collaboration |
| People are slotted into roles | Roles are built around individual skills |
| Control comes from oversight and rules | Control comes from transparency and peers |
| Individuals compete for promotion | Individuals compete to add value |
| Units are judged against top-down targets | Units are responsible for local P&Ls |
| There are ranks of managers | Teams and individuals are self-managing |
| Compensation correlates with rank | Compensation correlates with impact |
| Employees have little financial upside | Employees have significant financial upside |
source: Hamel and Zanini, Humanocracy
In organizations that make this leap, the work of managing is broadly distributed-which means fewer managers and administrators, and fewer layers.  The mission is the boss, and everybody is accountable to the customer.  The entire company is a laboratory for experimentation. Transformational change happens continously and without the need of a top down "program."  There is zero tolerance of bureaucratic maneuvering, and resources flow unimpeded to the most promising opportunities. Priorities so often viewed as irreconcilable, such as efficiency and innovation, are pursued in harmony.  Work is imbued with opportunity, dignity, and equity.  
These are the workplaces I dream about.
---
I enjoy partnering with organizations to achieve what others might regard as impossible
Over a decade ago, Prof. Gary Hamel and I founded the Management Lab (MLab) to help some of the world's largest and most successful companies accelerate their pace of their management innovation. Among the highlights:
Turning on the creative genius of 70,000 employees at one of the world's leading technology firms to solve a variety of pressing challenges such as reimagining the customer experience, creating an always-on process for improving & reinventing the business, and multiplying social impact;
Upskilling tens of thousands of employees in several global companies, spanning multiple sectors and workforces (including hourly employees), to think and act like business innovators;
Harnessing the power of crowdsourcing to help a prominent consumer goods player build a game-changing strategy;
Helping a global leader in the luxury industry company re-engineer its management practices around the principles of ownership, openness, and experimentation;
Advising a fast-growing consumer goods manufacturer during its successful, multi-year transformation to become the industry's most entrepreneurial and innovative companies;
Developing innovation tools and digital platforms that have helped organizations the world to accelerate and improve their business and management innovation efforts.
I've helped transform some of the world's most influential companies and created billions of dollars in market value. MLab's approach to building capability is highly aspirational, collaborative, and experimental. In our experience, it generates impact at a fraction of the cost and time of a traditional change "program." For more, see this summary.
---
Through my research, writing, and speaking, I seek to reshape the practice of management
My company work is informed by years of on-the-ground research on the limits of traditional management and how the most successful and radically organized companies overcome these obstacles. My learnings and practical how-tos are distilled in Humanocracy, a Wall Street Journal bestselling book I co-authored with Gary Hamel. Gary and I wrote Humanocracy to be a manifesto and a manual for building organizations that are bold, entrepreneurial, and nimble as change itself.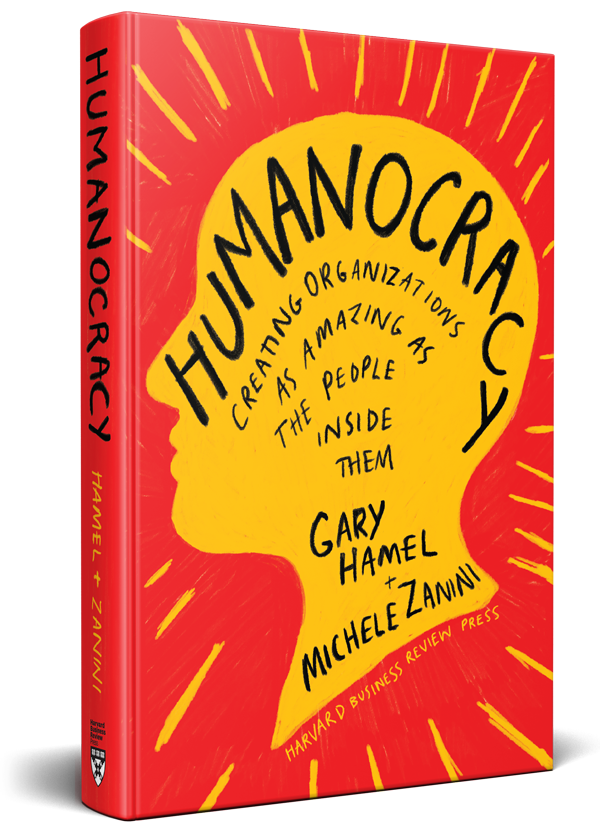 I  frequently write on the pages of the Harvard Business Review, the Financial Times, the McKinsey Quarterly. Fast Company, and Fortune.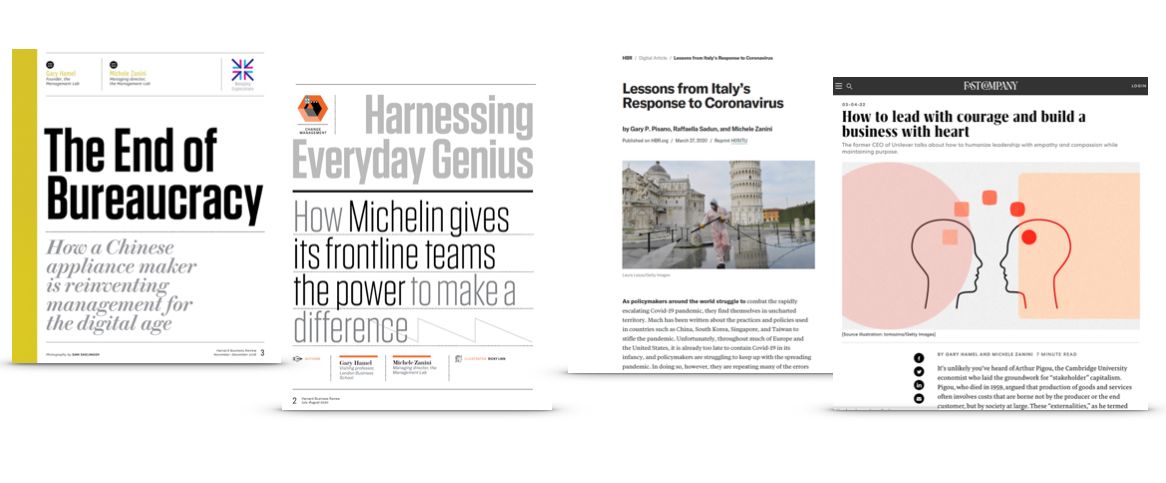 I regularly speak and moderate at management conferences, such as the Global Peter Drucker Forum (where I'm a member of the organizing committee).  I also deliver company keynotes and workshops for blue chip companies around the world.   For more details on speaking topics, click here.
---
I'm building a movement to reinvent & humanize work in the 21st century
There are many worthwhile challenges in the world, but the one that drives me is this: creating work environments where human beings are free to flourish.  Meaningful progress on this front requires a collaborative effort.  It's only with the contributions of thousands of likeminded thinkers and doers that we can overcome the gravitational pull of the status quo.
Over the years, I've spearheaded various initiatives to bring together a community of management innovators, including:
Launching a series of global management innovation prizes (M-Prizes) with the help of Havard Business Review, McKinsey, Fortune, Gartner, and other partners.  These unearthed hundreds of radical yet practical case studies and bold new ideas on how to build organizations that are fit for the future;
Architecting and running a series of  management "hackathons"– collaborative, open-source efforts involving thousands of practitioners focused on a shared problem, like retooling HR practices to promote adaptability;
Hosting several large gatherings of the management vanguard--connecting CEOs and change agents from some of the world's most entrepreneurial and human-centric organizations such as Buurtzorg, Haier, Nucor, and WL Gore;
Gary Hamel and I have recently launched  The New Human Movement, a video series in partnership with Fast Company which features over 50 of the world's boldest thinkers and radical doers who are reimagining work, management and capitalism for a new age. Through conversations with CEOs, entrepreneurs, philosophers and management gurus, we aim to recruit a nucleus of pro-change individuals with the vision, passion and expertise to play a catalytic role in reinventing management for a new age.  With their help, we're unearthing the most impactful strategies for accelerating the pace of management innovation across the globe.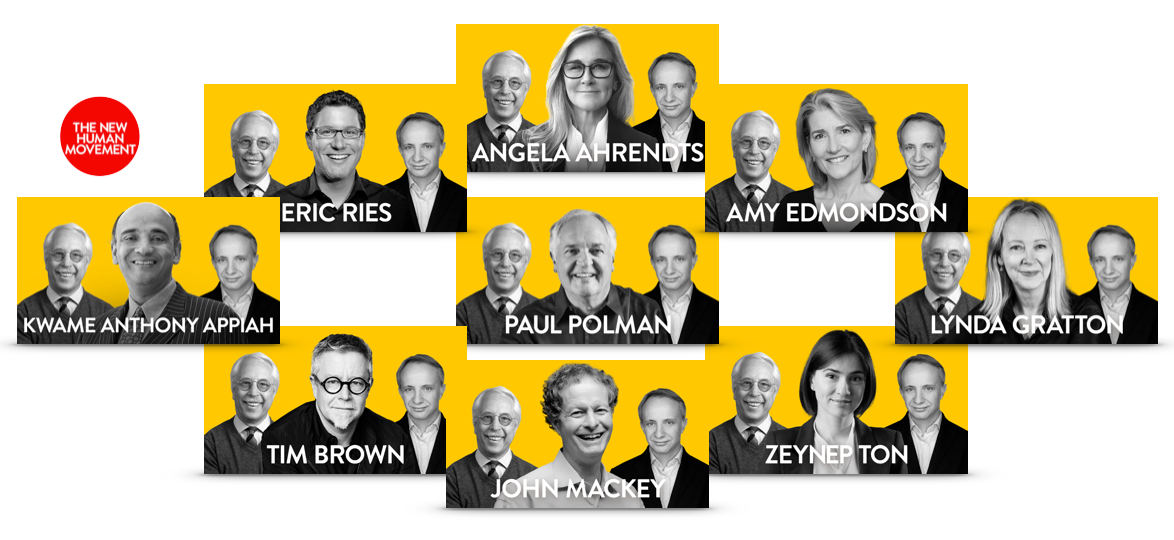 ---
I've long worked at the intersection of strategy, organization & tech
I was previously a senior consultant at McKinsey & Company and a leader in the Firm's organization, strategy and financial services practices.  While at McKinsey, I worked on several large-scale transformation initiatives, often helping clients in making deep shifts to their corporate strategy and organizational models.  I also led several research projects on emerging 21st-century, tech-enabled management practices such as dynamic resource allocation, internal market places, horizontal networks, and new performance metrics that reflect the contirbution of intangible assets such as knowledge.
I began my professial life at the RAND Corporation, a leading U.S. public policy think tank.  My focus was on international policy, including NATO strategy in the Middle East and Eastern Europe.  My most memorable RAND project was the first, back in 1996, exploring how terrorist and other insurgent groups were harnessing information-age technologies to operate as nimble networks.
---
I left Europe for the US back in 1994 to attend Harvard University's John F. Kennedy School of Government, where I graduated with a Masters in Public Policy in 1996.  I then moved to Santa Monica, CA and earned a PhD in Policy Analysis from the Pardee RAND Graduate School.  
I currently live in the Boston area with my wife and three daughters. I'm fluent in English and Italian, and can converse in Portuguese and Spanish.